Thursday February 26, 2004
On A Clear Day
See How Far He Runs?
by Howard E. Hobbs PhD, Editor & Publisher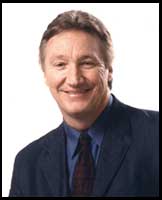 FRESNO -- In a recent meeting of Alexander Hamilton School parents, Fresno Mayor Carlos Alan Autry was asked to address three specific public concerns about the involvement of Fresno City Hall staff in the launching of a $250,000 newspaper venture called The New Valley Times. The Mayor quickly adopted the "Gee I wish I had more time. I'm late for another meeting..." approach and ducked all questions. He has called for a fresh approach at City Hall. It is apparent that city residents want knowledgeable leadership and direction, not politics as usual. Leadership requires the courage to Make decisions that will benefit the next generation. He has promised that kind of leadership. But talk is cheap.
He made statements like, "You don't need a city charter to know that education is the foundation of any community." And, he said he "believes in the tremendous power in the truth and "fiscal responsibility ensuring that every taxpayer's dollar is accounted for and used appropriately and judiciously for essential City services." When asked "The New Valley Times - is that the vision for Fresno? His answer was "I had nothing to to do with that. When asked "And who authorized that?" He said, "We had nothing to do with it." And when asked "And who paid for it?"
He was uncertain and stimbled. It was one of many awkward moments for the mayor. He could have simply said it was paid for, thanks to itsvsponsors who supported the Fresno 2015 Project and the The Fresno Bee, California State University, Fresno Generation Homes, Premier Valley Bank, Table Mountain Casino, Bank of America, Bennett Frost Personnel Services, Inc., California Business Furnishings, California Cancer Center, Central Valley Community Bank, C. Watson J & J Realty Century 21, City of Clovis, Deloitte, Desks, Chairs, and More, Donaghy Sales, Fresno Business Council, Gap, Inc., Lyles Center for Innovation & Entrepreneurship, State Center Community College District, The Big Fresno Fair, California Business Machines, Central Valley Business Incubator, Comerica Bank, DNC Parks & Resorts at osemite, Inc. Johanson Transportation Services, McCormick, Barstow, Sheppard, Wayte & Carruth LLP, Walter Law Group, Wolco Business Systems, Inc., Advertising a la Carte, Bertz-Roza Design, Bright Code, Cohen Communications, Lou Cohen, D.D.S., Dumont Printing, Fresno County Workforce Investment Board, Fresno Surgery Center, James and Coke Hallowell, Janzen, Tamberi & Wong, Certified Public Accountants
Lawrence-Nye-Andersen Associates, Consulting Mechanical Engineers, Inc. Mullins Studios, and Nalchajian Orthodontics, all of whom even an average Mayor of Fresno would have known.

[Editor's Note: Alan Autry is the present Mayor of the City of Fresno Ca. Tenured from January 2001 to January 2005. The above material has been obtained from public domain comments by Alan Autry Mayor, City of Fresno. Prior to entering politics, he had been a commentator for the Fresno State Bulldogs. Some time ago he appeared in minor TV and Movie roles. He is also known by the name "Carlos Brown."]


©1876-2003 by The Fresno Republican Newspaper.
All rights reserved.